Things to check when CamTwist doesn't work.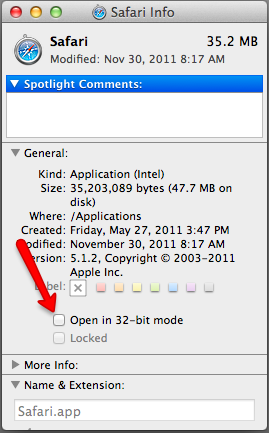 The latest version of the Flash player is 64 bit by default. The CamTwist driver doesn't work in 64 bit applications and thus the CamTwist camera will not be visible. You can try running your app (Safari in my example) in 32 bit mode to see if that solves the problem. Another possibility is to downgrade the Flash player.
If you're running a video application that doesn't allow for camera selection, it may select CamTwist when you would have preferred that it selected your camera. You can use this preference to make sure that the CamTwist camera driver doesn't load unless CamTwist is running first. If this check is selected, CamTwist MUST be run before your video app. It's best to leave it unchecked unless you feel you need it checked.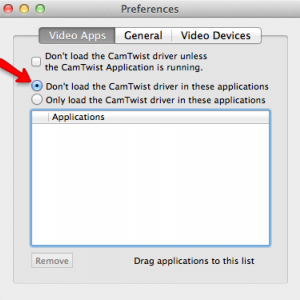 This preference give you control over what specific apps you want to enable for CamTwist. If you're having problems, the best thing to do is to use the first radio button which means that the list will contain only the apps that you wish to NOT enable for CamTwist. For most people, that list should be empty.